IoT for Restaurant and Food Industries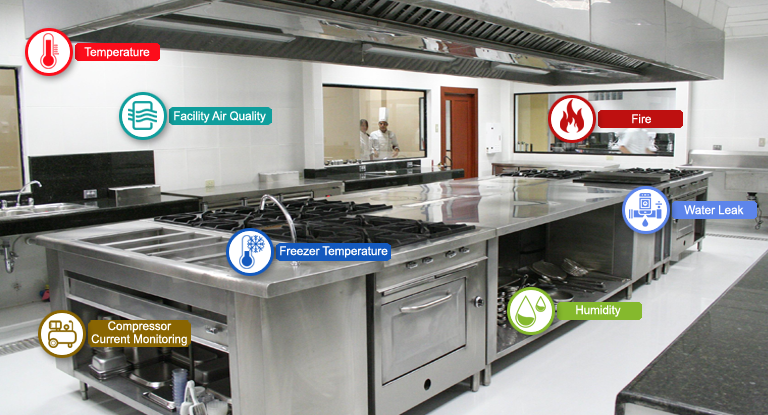 Why do we need IoT for Restaurants and Food industry today? Super Markets, Restaurants, Franchise Stores are becoming very busy these days as people prefer eating out and spending time in choosing their food supplies carefully. With these changes happening rapidly day to day operational challenges require environmental monitoring as a must. IoT for restaurants must not become an added burden to the food industry or an added task to their busy schedule.
WatchNET IoT Industrial quality wireless devices can be installed to monitor and measure key metrics  through IoT for restaurants and food to ensure compliance that are required in the facility.
Our devices not only monitor the environment but also learn employees' behavior equipment efficiency that will convert to energy savings and quick return on investment.
Food Safety through IoT:  Watchnet IoT Sensors for food and restaurants helps with cold storage and temperature management which allows to supervise food safety even remotely ensuring effective restaurant management.
Wastage of Food: IoT for restaurants technology automates the monitoring of all the food to provide real-time information, thus decreasing wastage.
Logistics through IoT: With IoT for restaurants and food industry, the whole shipping and distribution can also be monitored and managed remotely helping the food industry to know more about their customer preferences and better understand the market requirements and supply as per demand.
Food storage with quality: WatchNet IoT sensors not only help store but also maintain food quality significantly by tracking activities, analyzing production, persistently inspecting the odor and color right from production, and automatically rectifies any inaccuracies.
Measurable Key Metrics of IOT for Restaurants
Few of the metrics that WatchNET IoT can monitor and analyze in Food and Restaurant Industries are: 
Benefits of Using WatchNET offerings
By using our products, you can boost the productivity of your restaurant as ensuring the proper work can have a positive impact on the revenue of the business. Our products also assist in determining the environmental problems, which is why a healthy and hygienic environment is built up. You can set daily targets and control the equipment through remote control. Our products have the capacity to recognize the problems resulting in efficient troubleshooting.
IoT for Restaurants using Internet of Things